Clacton house blaze death caused by 'exits not being clear'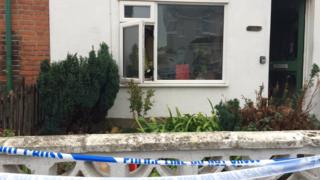 Fire investigators say a man died because he was unable to get out of his home.
The man in his 70s was found in the lounge of his home in Warwick Road, Clacton, Essex, at 22:15 GMT on Sunday, and died at the scene.
Essex Fire and Rescue Service said it received a call from a neighbour who heard the property's alarm sounding.
An investigation is being carried out alongside police to establish what caused the blaze.
The fire is not being treated as suspicious, Essex Police said.
Read more on this story and other Essex news
Essex Fire Service's head of community safety Neil Fenwick said: "Initially we believed the occupant had not heard his smoke alarm as we were informed he was hard of hearing.
"Our investigation has found that the man had been alerted by his working smoke alarms and had attempted to exit his property.
"However due to his exits not being clear, he was not able to leave his property and was overcome by the smoke.
"We urge everyone to make sure their escape routes are kept clear so that in the event of a fire, you and your family can get out as quickly and safely as possible."