Driving instructors to be police 'eyes and ears'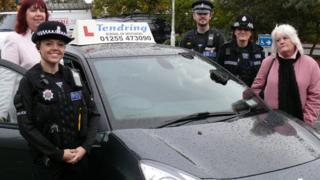 Driving instructors in Essex are set to become the eyes and ears of the police while out on lessons.
The scheme in the Tendring area will see learner cars fitted with GoPro cameras to film criminal behaviour.
Instructors will "share intelligence" and give descriptions of offenders to police in an effort to "act smarter" in how crime is tackled.
Essex Police said there were 100 instructors in the district who could be used as "additional resources".
Ch Insp Russ Cole said: "They will not look out of place going about their normal business and can spot when there is something out of the ordinary."
Read more on this story and other Essex news
The idea was thought up by Ch Insp Cole and his special constable colleague Marion Bell, who also works as a driving instructor.
Sue Whiteley, chairman of the Clacton and District Driving Instructors' Association, said: "We are used to keeping our eyes and ears open and reporting anything unusual or suspicious to the police.
"However, this puts it on an official footing and information will now be shared both ways."