Sible Hedingham shooting: Accused man was 'scared' of co-defendant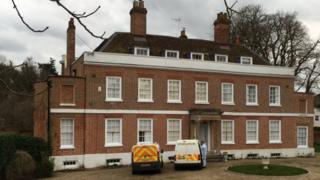 A man accused of burgling a millionaire's mansion told a jury he was "scared" of his co-defendant who was carrying a shotgun.
Christopher Bergin, 27, said he had gone to the Old Rectory in Sible Hedingham, Essex, with Charlie Simms, and was "scared of getting myself shot".
During the break-in on 6 February, property owner Timothy Mardon, 51, was shot in the leg.
Mr Bergin denied aggravated burglary.
More on this and other news from Essex
Mr Bergin said he was at his grandmother's house with a girl, who cannot be named for legal reasons, when his co-defendant Mr Simms, 23, arrived.
Mr Bergin said Mr Simms had a shotgun with him and let off two gunshots outside the house.
They were drinking with the girl, and after she refused to have sex with them the "mood changed", the court heard.
"[Mr Simms] didn't seem happy he didn't get his way," said Mr Bergin. "He asked me again to go to the Old Rectory."
He said Mr Simms was convinced the Old Rectory was connected with drug dealing.
"He was threatening me," said Mr Bergin. "I was scared of getting myself shot."
Drug search
Mr Bergin said they scaled a wall of the property and Mr Simms smashed a window. He said he was told to "find the weed".
"The last I saw of him was when he was at the top of the stairs," said Mr Bergin. "When I was at the window running I heard a bang. I thought it was a kick to be honest."
He said he ran home.
Mr Bergin, of Hawkwood Road, Sible Hedingham; Mr Simms, of North Road, Halstead, Essex; and Kalebh Shreeve, 24, of Gibson Road, Halstead; all deny offences including aggravated burglary and possession of a firearm.
Mr Simms also denies attempted murder. The case continues.