WW1 soldiers with wrongly-marked graves laid to rest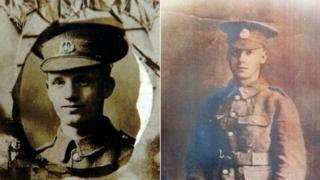 Two World War One soldiers have been buried 100 years after a clerical error led to their names being wrongly marked on a communal grave.
Ptes William Marmon and Harry Carter of the 10th Battalion the Essex Regiment died in an explosion in 1915.
Archaeological evidence suggests a collective grave was wrongly marked with their names by the War Office.
Pte Carter's relatives said they were "absolutely amazed" to hear the men's remains had been found elsewhere.
His great nephew Brian Churchyard said the soldiers "really deserved" the funeral with full military honours, organised for them in northern France.
"We were honoured to be invited. I'm very proud," he said.
Rather than being recovered and buried after the German mine explosion which killed them, the men's bodies had lain underground in the village of La Boisselle.
They were found in 2013 by professional archaeology group, the La Boisselle Study Group, in a two-hectare site which included British, French and German trenches.
During excavations, the group found the remains of two fully-kitted men beside their rifles and ammunition, grenades and flares.
Pte Marmon, who was 21 and from Holborn, London, and Pte Carter, 20, from West Ham, were eventually identified through DNA analysis.
The burial, which was organised by the Ministry of Defence's Joint Casualty and Compassionate Centre, saw soldiers from the Royal Anglian Regiment fold the union flag on each man's coffin before they were lowered into the ground in Albert.
The soldiers' relatives laid wreaths and flowers at the men's new graves.