Sible Hedingham shooting: Victim 'feared for life', court hears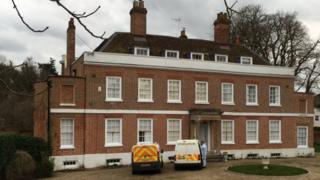 A "brutal" raider shot a millionaire businessman in the leg and threatened to "blow his face off" after breaking into his mansion, a court has heard.
Three men broke into Timothy Mardon's home in Sible Hedingham, Essex, on 6 February.
Chelmsford Crown Court heard they falsely thought Mr Mardon was a drug dealer.
One man denies attempted murder and aggravated burglary. Two others have denied aggravated burglary.
The father-of-two was shot in the thigh through a closed bedroom door and was left with "life-changing injuries", police said.
More on this and other news from Essex
Richard Christie QC, prosecuting, told the court Mr Mardon dialled 999 and during that "desperate" call the line remained open for half an hour as officers made their way to the Grade II listed home.
Operators heard the "massive blast" from the shotgun on the line.
Mr Christie QC told the court that, as Mr Mardon lay in a pool of blood, one of the accused, Charlie Simms, wearing a stocking mask over his face, demanded to know "where the safe was", or he would kill him.
"He then started counting down: 10, 9, 8, 7, 6..." Mr Christie QC said.
'Living nightmare'
A voice could be heard on the 999 recording asking: "Where's the weed at or I will blow your face off."
The raiders believed they would find drugs money at the house, Mr Christie told the court.
"The reality was Mr Mardon had nothing to do with drugs."
"In those few minutes, his happy life had turned into a real living nightmare that has continued since that time," he added.
The court was told Mr Mardon's wife and two children were not in the house at the time of the incident.
Mr Simms, 23, of Great Yeldham, Essex, described in court as the "most brutal" of the raiders, denies attempted murder, aggravated burglary, wounding with intent, possessing a firearm and possessing a firearm with intent to endanger life.
Kalebh Shreeve, 24, and Christopher Bergin, 27, both of Sible Hedingham, deny wounding with intent, possessing a firearm and possessing a firearm with intent to endanger life.
The trial is expected to last several weeks.