Gardener smashes UK pumpkin record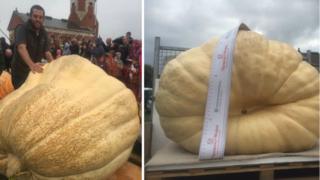 A new record has been set for the UK's heaviest pumpkin grown outdoors, which was cultivated from a seed costing £1,250.
Matthew Oliver said he was "over the moon" after his pumpkin weighed-in at 95st (605kg) at the Pumpkin festival in Southampton.
He now holds the UK record for the biggest pumpkin grown outdoors.
The horticulturist, from Essex, grew the gourd from a seed which came from the current world record holder.
Mr Oliver, who works at RHS Hyde Hall near South Woodham Ferrers, said: " I'm so happy, but I'm not sure at this stage if I'll ever do it again."
The parent pumpkin was grown in Switzerland in 2014 by Beni Meier, who still holds the world record for the heaviest gourd at 166st (1,054kg).
Mr Oliver's pumpkin seed was planted in mid April. He said it took six days to germinate before becoming a "vigorous grower".
A sling and forklift was used to transport the pumpkin to Netley Park for its official weigh-in, which was overseen by the Great Pumpkin Commonwealth.