Bupa Christmas party death: Manslaughter accused 'just panicked'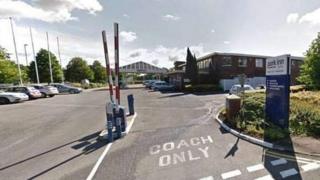 A man who killed his colleague with a single punch to the jaw at a work Christmas party said he "just panicked", a court has heard.
Bradley Casey, 21, hit colleague William Wareham, 53, outside the Park Inn Hotel in Harlow, Essex, Chelmsford Crown Court was told.
He said his actions were "instinctive" in response to a cigarette being forced into his mouth.
He denies manslaughter and claims he acted in self defence.
In a police interview played in court, Mr Casey said there had been a "good atmosphere" at the Bupa Healthcare festive party.
He said a group decided to get a taxi into town at about midnight on 12 December 2015.
Trouble flared when the taxi he ordered did not arrive, and Mr Wareham called him "useless", he said.
'Shock and fear'
Mr Casey, of Castle Street in Thetford, Norfolk, said: "He got a cigarette, jabbed it in my mouth.
"I felt threatened. I just panicked and hit him.
"He went down. It was shock and fear, I just ran."
Police found Mr Casey, formerly of Cheshunt, Hertfordshire, lying in bushes near a cycle path crying, the jury heard.
Mr Casey added: "It all happened in a matter of seconds."
Mr Wareham died on December 13.
A post-mortem examination said bruising to the back of his head was consistent with a heavy fall backwards accelerated by the force of a punch.
The men had been colleagues for six months and "got on well professionally", the court heard.
PC James Ball, in a written statement, said Mr Casey told officers: "I didn't want to hurt him."
Blood tests found both men were around three times the drink-drive limit at the time and had both taken cocaine.
The trial continues.