Pilot reunited with plane he flew during World War Two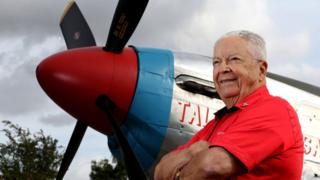 A US pilot has been reunited with the plane he first flew as a 19-year-old during World War Two.
Lt Col George Hardy, 91, served in the first group of African-American military pilots in the US Air Force.
His Mustang is now based at North Weald Airfield in Essex as part of a group of ex-fighter planes flown at air shows.
Mr Hardy, who lives in Florida, was invited to the UK by the collection's chief pilot, who traced him through history groups.
'Never used the parachute'
Based in Italy, he flew 21 missions in the final months of the war in 1945, mostly escorting bombers over Nazi Germany to protect them from the Luftwaffe.
Mr Hardy has fond memories of the plane, named "Tall In The Saddle".
He said: "This is one of the most beautiful airplanes going. It was so easy to fly and so responsive and, at 19-years-old, flying that airplane, you couldn't beat it.
"I never had to use a parachute, so I never got in any real trouble."
He did not encounter many enemy aircraft as he joined near the end of the fighting in Europe, but was often shot at from the ground.
The plane has had bullet repairs in several places on its fuselage.
Mr Hardy flew his last mission in the plane on 7 August, but went on to fly other aircraft, completing 50 missions in Korea and 70 in Vietnam before pursuing a career in communications.
He was tracked down to Sarasota, Florida, by Peter Teichman, chief pilot of the Hangar 11 Collection in Essex.
Mr Teichman said he hoped to take Mr Hardy up for a flight in "Tall In The Saddle" during his week-long visit.