Javid Ahmed detained indefinitely for 'slashing' mother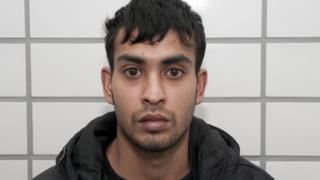 A man who "slaughtered" his mother in a street with a sword and knife has been detained indefinitely in a secure mental hospital.
Amina Begum, 47, from Fambridge Close, Maldon, Essex, died as a result of the 37 wounds she received in the attack on 24 March.
Her son, 26-year-old Javid Ahmed, rang 999 to report he had killed his mother.
Ahmed admitted manslaughter on the grounds of diminished responsibility at an earlier hearing.
Live: Updates on this story and other Essex news
Chelmsford Crown Court heard how the attack began in the family home and carried on in the street after Ahmed chased his mother out of the house.
Ahmed, also of Fambridge Close, was seen by neighbours and passers-by repeatedly slashing his mother's head and body.
The attack ended when an 80-year-old neighbour, Margaret Anderson, told him to stop.
Psychiatrist Dr Raman Deo told the court Ahmed had become fascinated by the Illuminati after watching a DVD that featured the secret society a year before the attack.
Ahmed, who Dr Deo has been treating, developed "an increasing preoccupation" with the group and after he was arrested suspected lawyers and medical staff of being influenced by them, he said.
'Absolutely terrifying'
Sentencing Ahmed, Judge Charles Gratwicke said: "No-one can feel anything but shock and revulsion and sickness as to the manner in which your mother died.
"She was attacked by you inside the house, you used a knife and a sword.
"She must have been absolutely terrified as she ran from the house, already injured by you, going to the ground where you proceeded to slaughter her.
"She brought you into this world. She nurtured you, cared for you, loved you. She gave you life. You took hers."
Ahmed was told he would not be discharged from hospital until the Ministry of Justice has agreed to his release.
Judge Gratwicke awarded Mrs Anderson £250 from the High Sheriff's Fund for her courage.
Correction 9 November 2016: This report has been amended to remove a reference to a DVD that was incorrectly thought to have been mentioned in evidence.