Ambulance service's 'serious failings' in heart attack care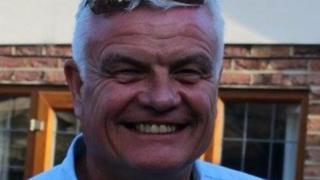 A man who died of a heart attack after being told he had a pulled muscle or had indigestion was the victim of serious failings, a coroner has said.
Gary Page, 54, died at home in Laindon, Essex, hours after he was seen by a private ambulance crew working for the East of England Ambulance Service.
An inquest at Chelmsford heard he was not taken to hospital.
Caroline Beasley-Murray recorded a narrative conclusion and said ambulance providers must improve communications.
For more on this and other stories, visit BBC Essex Live
Mr Page had complained of severe pain in his chest and right arm in February and he and his wife, Kim, decided to call the NHS 111 helpline for advice.
An ambulance was dispatched by Private Ambulance Service Limited (PAS) because the regional ambulance service did not have a vehicle to send.
On arrival, Lauren De La Haye, the senior member of the ambulance crew, told Mr Page on three occasions that he faced a 10-hour wait if he insisted on being taken to hospital, Mrs Page told the inquest.
Ms De La Haye also said she could not "guarantee" that he was not suffering a heart attack, the hearing was told.
Crew member Dan Rudge said an electrocardiogram (ECG) reading was abnormal, but Ms De La Haye overruled him.
Colleague Daniel Norman said he passed Ms De La Haye his phone to call for guidance, as was standard procedure in the event of a private ambulance crew deciding not to take a patient to hospital, but she did not make the call.
Ms De La Hay was not at the inquest.
In her conclusion, Ms Beasley-Murray said Mr Page died of a heart attack after being the victim of a serious failing in care.
East of England Ambulance Service said a review had taken place and training and communication was being improved.
In a statement, James Barnes, managing director of PAS, said: "We offer our sincerest condolences to Mr Page's wife and family on their loss, and offer a formal apology for not providing the patient with the care which was expected.
"We have been working closely with East of England Ambulance Service to ensure we have fully followed the recommendations within their investigation report."