Policeman hurt in Rayleigh as motorist drives over his foot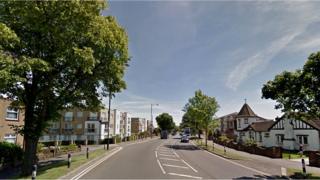 A police officer was hurt when a driver he had pulled over drove over his foot as he fled.
The driver of the black VW Golf was stopped in London Road, Rayleigh, on Friday after checks showed it had previously been stolen.
Essex Police said the motorist left the scene with the officer's arm trapped in the door before running over his foot.
He suffered injuries to his wrist and elbow. Police are appealing for witnesses to come forward.
The driver was white, over 6ft tall, in his 40s, with a shaved head and wearing glasses, a police spokesman said.