Mersea Island's unofficial gold postbox repainted red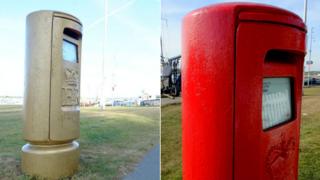 An Essex postbox unofficially painted gold in honour of an Olympic gold medallist has been repainted red.
It is not clear who decorated the box beside Blackwater Estuary on Mersea Island where Rio Olympics' sailing champion Saskia Clark learnt to sail.
Postboxes were painted gold in 2012 in recognition of British winners at the London Olympics.
The Royal Mail said it was up to host nation Rio to celebrate its own games and had said it intended to repaint it.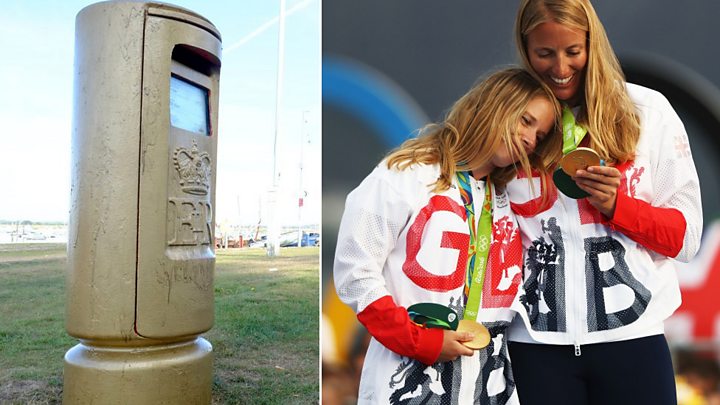 Ms Clark, along with Hannah Mills, won gold in the women's 470 class for Team GB in the 2016 Summer Olympics in August.
It is believed the postbox on Coast Road was painted gold overnight on Friday.
'Looks like custard'
Mersea Island mayor Carl Powling had hoped it would be allowed to stay.
He said although it "does look like custard has just been poured over it", it was "wonderful".
The Royal Mail said that as the host nation in 2012 the gold postboxes were a "unique, highly visible and fitting way to recognise the successes of Team GB and Paralympics GB" and that all 110 boxes would remain gold on a permanent basis, with a plaque naming the athlete and their achievement.
"This year, Brazil, as the host nation of Rio 2016, has the honour of celebrating the games in its own way," spokeswoman Sally Hopkins said.
Mr Powling had written to the Royal Mail asking for it to be either left or repainted in gold.
However, earlier it was returned to its original pillar-box red colour.