Quaker Sheila Hancock says modern living 'lacks any silence'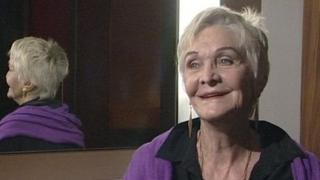 The actor Sheila Hancock has revealed she constantly asks shopkeepers and restaurant owners to turn down background music.
The widow of John Thaw is a committed Quaker, for whom silence is revered.
She made the comments during a visit to Chelmsford Cathedral to unveil an exhibition featuring the Quaker Tapestry.
She said: "I do think silence is valuable and I think we've lost the art of it."
The 83-year-old added: "I worry that my grandchildren will live in a constant noise.
"They have things on their ears, they have the radio on, they have discos, you know it's constant banging rhythm and I don't think it's terribly good for them."
'Beautifully done'
The embroidered panels of the Quaker Tapestry, created in the 1980S and 1990s by 4,000 people around the world, tell the story of the Quakers' past 350 years.
Ms Hancock said: "The tapestries themselves are beautifully done, colourful and lovely - and funny, some of them, and tragic.
"They are kind of a history of the British Isles and abroad because Quakers went to America and all over the world."