Girls, 13, rescued from waist-deep mud near Harlow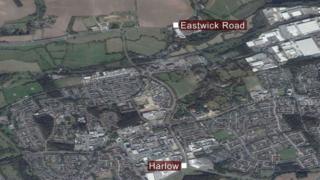 Two girls have been rescued after getting stuck in mud - one up to her waist - whilst on a canal path walk.
Essex Police said the pair, both aged 13, had walked from The Stow in Harlow and got into difficulty after going through marshland off Eastwick Road, Gilston, at 15:45 BST on Monday.
They called police and were found by the force helicopter before members of the public tried to pull them out.
Officers eventually used a broom handle and shovel to dig the girls out.
Follow updates on stories happening across Essex
"The girls had stepped off the main canal path and down a grass bank onto what they thought was a bridleway," said Pc Tom Lennon, one of those who was called to help.
"Unfortunately they stepped into a peaty bog and one of the girls tripped, causing her to fall into the mud up to her waist.
"It was fortunate they had a mobile phone to dial 999 as they were not sure of their location and were found in a secluded spot."
Police warned walkers of the importance of staying on established footpaths when exploring marshy or coastal areas.