Judge Patricia Lynch QC probed after 'swearing in court'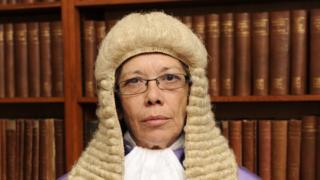 A judicial investigation has been launched after a judge reportedly swore back at a defendant in a courtroom.
John Hennigan, 50, of Brockles Mead, Harlow, was being sentenced at Chelmsford Crown Court for his ninth breach of an anti-social behaviour order in 11 years.
He used an offensive word to describe Judge Patricia Lynch QC and she responded with the same term of abuse.
The Judicial Conduct Investigations Office (JCIO) is investigating.
A spokesman said it had received complaints.
More on this and other stories at BBC Essex Live
After news of her four-letter retort circulated, some people took to social media to praise her reaction and choice of words, branding her a "hero" and an "idol".
Hennigan was jailed for 18 months for insulting and making racist slurs against a black woman in Harlow, Essex.