Horse shot dead on M25 after causing two hours of delays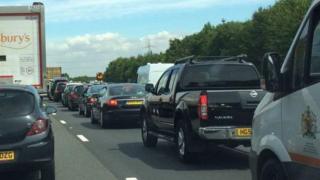 A horse has been shot dead after escaping on to a link road on the M25, causing two hours of delays.
The road connecting Junction 30 with the A13 in Thurrock, Essex, was closed for a number of hours while two horses were herded off the motorway.
One of the animals became loose again while police tried to find its owners and was then shot by firearms officers.
Police said the decision was taken "for the safety of motorists and to prevent further suffering to the horse".