Olly Murs pays to get Coggeshall Town's showers fixed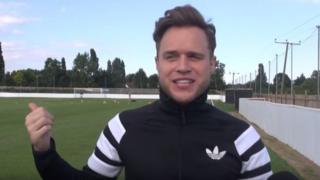 Pop star Olly Murs has paid to have the showers at a non-league football club fixed, after declaring them "dreadful" to use.
The Essex singer has enjoyed a successful career in the music industry but said football was his first love.
He has played for Coggeshall Town but was not impressed by the facilities.
"I said listen, let me put some money in and get it sorted," he said. "I rang up my plumber and said can you sort the showers out, and he has."
Murs, who is from Witham, sprang to fame in the 2009 series of X Factor and has since had three number one albums.
Speaking to the Ipswich Town Football Club website ahead of a friendly match, he said he had been training with Coggeshall for "nearly two years".
"I think we're a really up and coming exciting club that everyone wants to be a part of," he said. "That's exciting for me, as a football fan.
"I have a fantastic career and get to do amazing things, but part of my life, a huge part of it, is football. It's all I've ever done since I was a kid.
"Forget about music, music is kind of the second thing - my second love. Football has always been my first."
Murs said he asked a plumber who works for West Ham to fix the showers.
"Ipswich Town wouldn't worry about them, but for us down here having a good shower after the game is amazing," he said.
Coggeshall play in the 11th tier of English football. The game with Ipswich ended 1-1.