Ryanair cuts Stansted Airport flights citing Brexit vote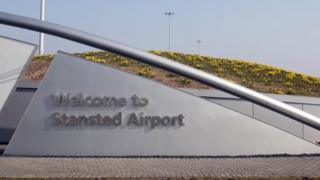 Ryanair is cutting the capacity and frequency of flights to and from Stansted Airport in Essex following the Brexit referendum result.
But the firm said that no routes would be closed.
The airline said it would "pivot" growth away from UK airports and instead focus on European Union (EU) airports.
Ryanair said the decision by Britain to quit the European Union was "a surprise and a disappointment".
The low-cost airline said there could be further implications of the vote to leave the EU if the UK is unable to negotiate access to the single market and the open skies regulatory framework currently in place across the EU.
However, the Irish carrier added it could benefit if "our UK registered competitors are no longer permitted to operate intra-EU routes, or must divest their majority ownership of EU registered airlines".
The company made the remarks alongside first-quarter results, which saw net income rise 4%.
Ryanair said it was hit by market volatility arising from terrorist events and repeated air traffic control strikes in the period, particularly in France, which caused almost 1,000 flight cancellations.