Man at Stansted Airport had gun-shaped phone case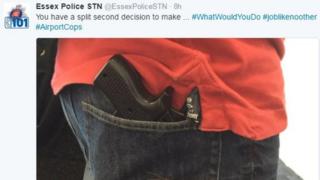 An air passenger with a handgun-shaped phone case was stopped by police, it has been revealed.
Essex Police said the man was stopped at Stansted Airport earlier.
The force said he risks being charged either with a public order offence or of carrying an imitation firearm in a public space.
"This is what was in the back pocket... An #iPhone case. Someone decided to put themselves in such a situation today," police said in a tweet.
"You have a split decision to make."