Care home shooting husband 'modified bullets' before killing wife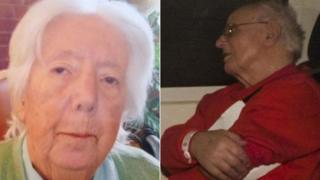 A disabled pensioner who shot his wife in a care home told police he modified the bullets so they would have maximum impact, a court heard.
Rita King, 81, who had dementia, was shot dead at De La Mer House in Walton-on-the-Naze, Essex, last December.
Her husband Ronald King, 87, admits killing her but denies murder.
Chelmsford Crown Court heard tapes of interviews he gave to police in which he said: "If you're going to do a job, you might as well do it properly".
Live: For the latest on the Ronald King trial and other Essex stories
The jury heard Mr King told police how he had attempted to modify the bullets to make sure they would have maximum impact.
He said he had been thinking about doing it for a fortnight, but the court also heard he had never fired a gun before he shot Mrs King on 28 December.
After he shot her, he said he kissed her on the lips and said "goodbye".
When police asked how he knew she was dead, he replied: "She was blank... I knew I'd done the job".
Earlier, the court heard from a care home staff member who said she had an altercation with Mr King two days before his wife died.
While Danielle Cross was making dinner on Boxing Day for residents at the home, at which Mrs King was a resident, Mr King told her his wife needed the toilet.
He was rude, she told the jury, and complained: "I can never find a carer when I need one."
Ms Cross told Mr King she would be there as soon as possible.
He then added: "Rita won't be here by Monday anyway," she told the court.
Ms Cross told the jury that although she did mention his comments to a senior member of staff, she assumed at the time Mr King meant he intended to take her home.
She told how Mr King was affectionate towards his wife and would kiss her goodnight when she went to bed.
'Had enough'
In police interviews played to the court, Mr King said the pair would have been married for 50 years this September.
He would visit her at the care home "once or twice a week", and recalled: "She used to wait for me to have her breakfast - she said it used to brighten her day."
But Mrs King started crying when her husband told her he could not cope with her coming back to the home they shared in Walton.
"I asked her if she'd had enough and she said yes," Mr King told police.
"That's when I phoned for a taxi - I said I'd forgotten my medicine - I went back and got the gun."
When asked if Mrs King knew he was planning on taking her life, Mr King replied: "She thought that we were going back home."
The case continues.