Missing Arsenal fan Claudio 'Claude' Callegair contacts family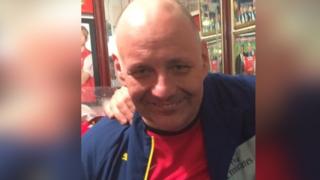 A prominent Arsenal fan who went missing three days ago has made contact with his family, police have said.
Claudio "Claude" Callegair, 53, from Broxted, Essex, became well-known after regular appearances on an Arsenal fan site. He disappeared on Thursday night.
In a statement, Essex Police said the taxi driver was no longer being treated as missing.
Mr Callegair frequently appears on ArsenalFan TV, which describes itself as "an online channel for all Gooners".
Police said they were "extremely concerned for his welfare" at the time he vanished.
The appeal to find Mr Callegair was widely shared on social media, with Arsenal supporter Piers Morgan tweeting to say: "Hope he's ok".