Mayland woman warned over 'intimidating' peacocks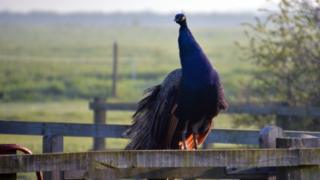 A pensioner has been threatened with a criminal record because her peacocks have been "intimidating residents".
Maldon District Council issued a community protection warning stating Frances White must stop her peafowl straying from her land.
It warns that her 20 peafowl in Mayland are defecating, damaging property and intimidating residents.
A Facebook campaign to save the birds, which could be culled, has reached more than 750 supporters.
LIVE: For more on this and other Essex stories
Mrs White's daughter Helen Theckston-White said: "These birds have been much loved members of our village community for over 15 years and people often stop by to offer some food or even collect a feather.
"The peacocks who roam are actually free-range fowl and were not bred, brought up or ever contained on the farm premises."
She added: "Capturing a wild bird is in its self a difficult task, we have explored many options, but our available options are slim.
"We feel to take a wild bird and restrict it to captivity would be cruel after a lifetime of freedom.
"To meet the deadline, and after seeking advice, we have been advised to have the flock culled."
---
Possible punishments
Breaching a community protection warning notice can lead to prosecution:
If you are prosecuted and convicted the maximum penalty is a fine not exceeding level 4 on the standard scale (currently £2,500 for an individual)
The court may make whatever order it thinks appropriate to ensure that what the notice requires to be done is done
A court order may require people to carry out specified work or allow specified work to be carried out by, or on behalf of, the issuing agency
Source: government
---
A council spokesman said "The council has received over 12 individual complaints from residents of Mayland, some of whom are very vulnerable, about the nuisance being caused by the peafowl.
"We are not asking for them to be culled, but we hope the owner of the peafowl acts responsibly in this case and takes the necessary action to prevent the ongoing nuisance and reduce the distress this matter is causing."