Escaped prisoner Malcolm Gooch caught after 21 years on the run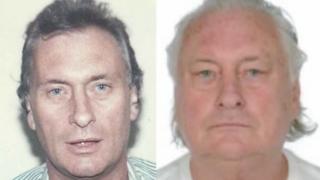 A convicted drug smuggler who spent 21 years on the run was caught by police after taking the Eurostar to London.
Malcolm Gooch, 68, from Chigwell, Essex, escaped while on day release from HMP Send in Surrey three years into an 11-year sentence in 1995.
He fraudulently obtained a passport which was linked to travel in Paris and the south of France, officials said.
On Saturday, the passport was traced being used by a traveller from Paris. Gooch was arrested at St Pancras.
"Gooch may have thought that after so long on the run he may have escaped justice for good," said Jayne Lloyd from the National Crime Agency. "But he never vanished off our radar.
"We were able to build up a picture of his travel and, working with our partners at Border Force and BTP (British Transport Police), once we were alerted he was on his way back to the UK we moved quickly to have him arrested."
After appearing at Westminster Magistrates' Court, Gooch was sent back to prison to serve the remainder of his sentence.