Abellio Greater Anglia passengers face second day of train delays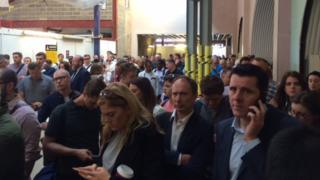 Hundreds of commuters have been left stranded at railway stations for the second day in a row after flooding affected train services.
The Abellio Greater Anglia line from London into Essex, Suffolk and Norfolk has been hit by delays after flooding damaged signalling equipment between Seven Kings and Ilford.
Services were also badly disrupted by flooding at Manor Park on Thursday.
The train operator has apologised to passengers for the disruption.
"We have done all we can to minimise the impact of the problems," an Abellio Greater Anglia spokeswoman said.
In Chelmsford, passengers were not being allowed up on to the platforms for fear of overcrowding.
About 250 people were thought to be waiting in the lower station, with hundreds more on the platform itself.
"Absolute chaos at #Chelmsford - can't get on a train at all," wrote one passenger on Twitter.
"I have to be in Chelmsford for 12 I can't miss another day's money but not going to work 😐 So the trains aren't running?" said another.
On its website, Greater Anglia said Network Rail engineers were working "as fast as possible to restore the train service to normal".
It has advised passengers one of two lines between Seven Kings and Ilford will be closed until at least 12:30.
In a statement, Network Rail said Thursday's heavy rainfall "caused significant damage to waterlogged signalling equipment, which is still affecting services to and from London".
"Our orange army is out working hard to repair the damage as quickly as possible and keep trains running," a spokeswoman added. "We are sorry for the inconvenience caused and we ask that passengers allow extra time for any journeys and check before they travel."