Essex firefighter numbers could be cut by 25% to save millions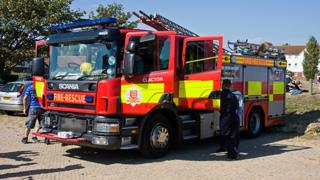 Firefighter numbers in Essex could be reduced by a quarter in a bid to save £6.4m by 2020.
Essex Fire and Rescue Service said more than 17,000 people responded to a consultation into the service's future.
The most popular option - option two - proposed a reduction in full time firefighter numbers from 570 to 432.
The county's Fire Brigade Union (FBU) said although option two was "the least painful", it would continue to fight for a larger frontline.
Essex's fire authority said nearly three quarters of those who took part in the consultation gave their support to the option which offered the smallest reduction in firefighters and fire engines.
Under the option, the service would have 66 fire engines, 18 of which would be full time and 48 on-call.
There would also be an increase in on-call firefighter numbers from 437 to 456.
"The number of people participating in the consultation is unprecedented," said Acting Chief Fire Officer Adam Eckley.
"This has given us an excellent insight into what the public, our staff and partners think of our plans and which of the three options we have put forward they prefer."
A final decision on the options will be made at a fire authority meeting next Wednesday.
Riccardo la Torre, chair of the Essex FBU, said although option two represented "the least amount of cuts", it would still affect the service provided.
"People will wait longer for fire engines to turn up to emergencies under any of these options," he said.
"The devil's in the detail. We realise there's a financial challenge but we're willing to work with the fire authority to make sure public safety is not compromised."