Lorry drivers deny Tilbury docks people smuggling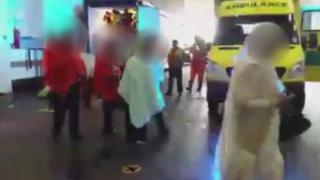 Two lorry drivers from Northern Ireland have been accused of being part of a people-smuggling operation in which an Afghan man died of a heart attack.
Forty-year-old Meet Singh Kapoor was found dead in a shipping container being transported from Belgium to Tilbury, Essex, in August 2014.
Mr Kapoor, his wife and two sons were among 35 Afghan Sikhs in the container.
Stephen McLaughlin, 36, and Martin McGlinchey, 49, deny conspiring to smuggle illegal immigrants into the UK.
The refugees are believed to have fled Kabul in Afghanistan after suffering alleged persecution and were living illegally in Belgium and France.
Jurors were told another smuggling attempt was thwarted less than two weeks earlier when driver Timothy Murphy, employed by Mr McLaughlin and Mr McGlinchey, was stopped in France while carrying a load of frozen chips.
Twelve Afghans were discovered hidden in his lorry, the court heard.
Basildon Crown Court was told Mr McLaughlin, from Limavady, Londonderry, and Mr McGlinchey, of Coalisland, County Tyrone, were part of a "large and organised" operation smuggling immigrants from the continent to the UK on legitimate crossings.
Prosecuting, Michael Goodwin told the jury: "We are going to invite you to conclude that both defendants were a necessary cog in the wheel that made this smuggling operation work and that each knew what was going on and that there is no innocent explanation for their movements, actions, telephone calls and meetings."
Jurors were told the two men are facing a retrial, and the pair deny conspiring to facilitate illegal entry into the UK between 1 June and 5 September 2014.
Mr Murphy was cleared of the same charge during a trial last year, while a Kurdish man, Taha Sharif, was found guilty. A fifth man, known only as "Kurd Eng", remains at large.
The court heard McLaughlin and McGlinchey worked as a team and used their expertise in haulage and their access to vehicles, trailers and containers to run the transportation side of the conspiracy.
Kurd Eng was "heavily involved" as a facilitator, while Mr Murphy, who lived in Belgium, was merely an "innocent dupe", paid to haul shipments by his fellow Irishmen and was a "fall guy" who unwittingly carried illegal immigrants, the court heard.
The trial continues on Wednesday.