Base jumpers rescued from Essex phone mast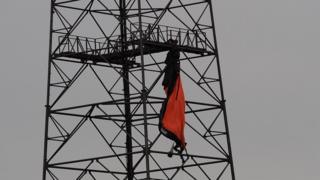 Two base jumpers have been rescued after getting stuck on a phone mast.
Essex Fire and Rescue said it helped the men after they were snared 20 metres (65 feet) in the air close to Halstead, near Braintree.
Fire-fighters arrived shortly before 18:00 BST and had the pair on the ground about 80 minutes later.
One of the men's parachutes had become entangled in the structure and the other man had climbed up to help him, Essex Police said.
The tangled man sustained a broken ankle and the other was unhurt.
A fire service spokesman said: "Crews used the aerial ladder platform to rescue the parachutists from the mast."
Base jumping is an activity where people jump from fixed objects with a packed parachute - base is an acronym that stands for four categories of places from which one can jump: buildings, antennas, spans (bridges), and earth (cliffs).
Jumpers are meant to ask the owner of the structure they wish to jump from, and the owner of the landing area for permission before embarking on a jump.