'Lack of police' blamed for failure to identify pervert teacher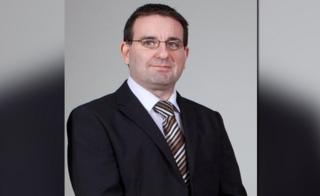 A lack of staff led to delays in police identifying a teacher found to have indecent photos of pupils as a risk to children, an IPCC report says.
Information passed to Essex Police about deputy head Martin Goldberg, 46, was not acted on for eight months.
Images of boys undressing at Thorpe Hall School, Southend and in a leisure centre were found on his computer.
An investigation found "high workloads" and "low staffing" led to a delay in realising he worked at a school.
Follow live updates on this story
Mr Goldberg's name was on a list of people who had bought DVDs and videos online, some of which showed graphic images of children, passed on to UK authorities by Toronto Police in 2012.
The information was given to Essex Police in November 2013.
The force's officers first visited Mr Goldberg in September 2014 - he was found dead the following day.
Operation Spade
In July 2012, intelligence was received by the Child Exploitation Online Protection (CEOP) Centre about UK customers who had bought illegal material from a Canadian website
Essex Police was given the names of 35 individuals in November 2013
At the same time, Cambridgeshire Police were made aware of Myles Bradbury, a paediatric haematologist at Addenbrooke's Hospital, whose name had also been passed over by Toronto Police
Bradbury was arrested in December 2013 and later pleaded guilty to 25 offences including sexual assault and the making of more than 16,000 indecent images
Police forces in Essex, North Yorkshire and North Wales all referred themselves to the IPCC over their handling of the intelligence they received
The Independent Police Complaints Commission (IPCC) found Essex Police did not have procedures in place to check if individuals worked with children after receiving intelligence about them.
"Although the force acted once it knew Mr Goldberg worked in a school, this was eight months after the intelligence had been received," the IPCC said.
The force did not carry out a DBS (Disclosure and Barring Service) check when the intelligence was first received, the report found.
An investigation found Essex Police's Online Investigation Team was "poorly resourced", which contributed to action not being taken earlier.
During an interview with the IPCC, a civilian intelligence officer said she was overworked and was told to drop Operation Spade.
"I sent an email in February saying that I was sinking. They don't often get emails like that from me which shows I was struggling and although I tried my utmost to get through all the packages I could, something had to give.
"In a way it was a bit of a relief (dropping Operation Spade), that decision was not mine, it had been made for me," she concluded.
IPCC commissioner Mary Cunneen said "strong recommendations" had been made to Essex Police about "improvements to policies and procedures" designed to ensure "mistakes of this nature are not made in the future".
The force accepted the recommendations and changed the way it carries out DBS checks, she said.
Thorpe Hall School's head teacher Andrew Hampton said he hoped the recommendations made in the IPCC report would "ensure proper resourcing and handling of intelligence going forward".