Ryanair opens training centre at Stansted Airport in Essex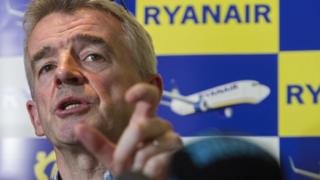 Ryanair chief executive Michael O'Leary has opened the airline's European Training Centre at Stansted Airport.
The centre will create more than 450 jobs for pilots, cabin crew and engineers at Ryanair's 13 UK bases, as part of a £976m investment package this year.
Ryanair said thousands of support jobs would also be created.
Mr O'Leary said the firm was also introducing 14 new aircraft in 2016 and aimed to boost passenger numbers.
He said Ryanair aimed to increase UK air traffic from 36 million passengers to 41 million passengers in 2016.