Brett Rogers case review called for by Essex Police and Crime Commissioner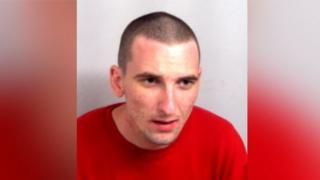 A newly elected police commissioner says a decision to house a violent man with his mother he later murdered was "questionable".
Brett Rogers was jailed for life on Friday for murdering his mother and her friend in Stansted Mountfitchet.
At the time of the killings in 2015, Rogers was on licence from prison for an assault on his father.
Roger Hirst, the newly appointed Essex police and crime commissioner (PCC), has called for a review of the case.
Rogers' mother Gillian Phillips, 54, and David Oakes, 60, had more than 40 stab wounds each when police found them at her home in Stansted Mountfitchet.
He was living with his mother in the months after he was released from prison.
Mr Hirst, a Conservative PCC, has asked the Essex Criminal Justice Board to review the case.
"The system doesn't look to have been good enough," he said. "We are looking here particularly at how we can handle probation better - a guy being out on licence like this and to make sure they are not put into a situation where the risk to those around them is this high."
"For them to be in the same space together does seem to me to be questionable and I think we have to work out what we can do better around safeguarding."
Tanya Bassett, of the National Association of Probation Officers, said: "These sorts of cases are very, very rare. The huge majority of prisoners that are released during their custodial sentence don't go on to carry out serious further offences."
Chelmsford Crown Court heard Brett Rogers was jailed in 2012 for breaking his father's eye socket.
Rogers, 23, was found at his mother's home in Bentfield Gardens after the attacks laughing and covered in blood.
He was told he must serve 32 years of his latest sentence before being considered for parole.