Old MacDonald's Farm defends care after Facebook criticism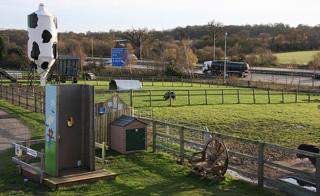 An animal petting farm says it has "nothing to hide" after facing a barrage of criticism on social media for its cleanliness and animal care.
Alexandra Alam, a visitor to Old MacDonald's Farm in Brentwood, Essex, described finding "rancid" drinking water and unclean pens on 8 May.
The post was shared more than 20,000 times on Facebook in two days.
In response, the farm said it was "proud" of standards and had invited an RSPCA inspector to the site.
The farm said it was inviting "anyone who has any concerns about their animal welfare" to visit the site on Friday "to combat the negative sentiment created by the storm".
Read updates on this story and other Essex news
Ms Alam's post included two pictures of algae-filled water bottles attached to a rabbit enclosure.
Old MacDonald's Farm admitted the water bottles were "below expected standards" and the regular replacement had been delayed.
A spokesman added that algae was "not harmful to the animals and as such isn't an animal welfare issue".
Ms Alam said she had been refunded her £30 entrance free and raised her concerns with the farm's management.
Comments on her post included one that said "well done for speaking up and sharing this", while another read "feel so sorry for the animals".
In a Facebook post, Old MacDonald's said at the time of the complaint: "All of the water bottles were checked, and all had a good supply of water".
"All of our animals are fed, watered and cleaned out daily, including our pigs, which are cleaned out every morning," the farm added.
"The RSPCA are not concerned about the animal care at Old MacDonald's Farm, so please be assured that you do not need to be either."
In a statement, the RSPCA said it was called with concern about rabbits at the farm, and visited on 9 May.
"We found they did have alternative water bottles which had water, and we found the enclosures very clean," a spokeswoman said.