Colchester United fan thanked for seven decades of dedication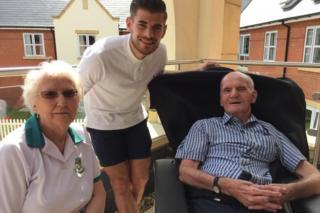 A football fan who only missed "occasional" games in 69 years supporting his club has been thanked for his dedication.
Douglas Newton, 86, from Colchester, Essex, started supporting Colchester United in the late 1940s.
But he has been unable to go to games since September due to mobility issues and was thanked at his care home by U's player Joe Edwards.
The midfielder said Mr Newton's dedication was "incredible".
Margaret Brodie, activities co-ordinator at Foxburrow Grange nursing home, said: "It's absolutely brilliant that someone who's playing for the team is still learning about it from someone whose passion it is."
Mr Newton said during his 69 years of supporting Colchester, he had only ever missed occasional games "because of weddings or funerals".
"I used to bike 12 miles to get there with my friend Peter. We we'd take blankets, pillows, mugs of tea," he said.
"We didn't care about wind or rain, we just went. I do miss going up there."
Edwards, 25, said the pair had discussed the team's recent misfortunes - they have recently been relegated from League One - and he had presented Mr Newton with two collectable match programmes.
"It's just been amazing listening to stories about football in times gone by," he said.