Loughton car thief taunted by police over crisp clue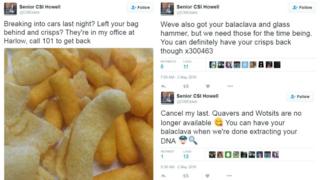 A hapless thief has been taunted by police for leaving crisps, a soft drink, tools and a balaclava at the scene of a crime.
The man was disturbed by the owner of the car he was trying to break into in Loughton, Essex, and dropped his bag.
Essex Police senior crime scene investigator Ryan Howell later tweeted a photo of the abandoned snacks and a message directed at the suspect.
"They're in my office at Harlow, call 101 to get back," he joked.
"We've also got your balaclava and glass hammer, but we need those for the time being," he wrote to the thief.
"You can definitely have your crisps back though," he added.
In a later post, Mr Howell revealed the crisps had been eaten, but said the suspect would be welcome to pick up the balaclava "when we're done extracting your DNA".