Darren Kelly killing: Suspected ringleader 'now feels responsible'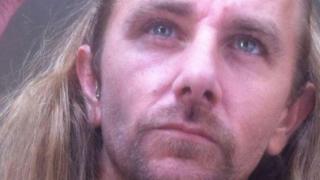 The suspected ringleader of a gang that lured to his death a lorry driver they falsely believed was a paedophile has told police she "felt responsible".
Darren Kelly, 42, from Basildon, Essex, was kicked, punched and stabbed to death near his home last October.
The 16-year-old girl, who admits using Facebook to contact older men, denies murder at Chelmsford Crown Court.
In a police interview read at the court she said: "It's my responsibility. He's died because I arranged to meet him."
The girl had launched a "personal campaign" against paedophiles and had recruited friends to help, the court has heard.
DC Neil Byott read from an interview transcript in which she said her intention was to get Mr Kelly arrested.
She suspected him of being a paedophile using the anonymous message service Whisper under the name "anonamail".
The teenage girl said: "Nobody else is doing anything about it. [Paedophiles are] walking around, ain't they, they're not locked away."
When asked why she met Mr Kelly she answered: "To get him arrested."
The gang confronted Mr Kelly but she did not mean for the incident to turn violent, the court heard. "If I wanted to cause harm, I would have beaten him up myself," she said.
She said she saw Mr Kelly holding his side but did not know he had been stabbed until she read it on social media at home and did not know anyone was carrying a weapon.
"I wouldn't have met him because now it's my responsibility. He's died because I arranged to meet him," she told police.
Chris Carroll, 20, of Pevensey Close, Pitsea; along with two 17-year-old boys and the girl, who cannot be named for legal reasons; all deny murder.