Row about fence 'turned into Facebook hate campaign'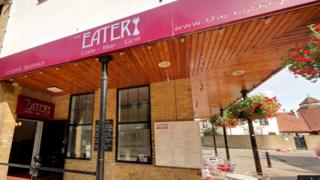 A businessman had "threats to his life" after a councillor's Facebook posts helped turn a row about a fence into a "hate campaign", a report says.
Colin Powell, of Woodham Ferrers, Essex, suffered the abuse after he complained about a restaurant building a fence without permission in the town.
Town councillor Chris Blowers started a petition to keep the fence and called Mr Powell a "very petty man".
An inquiry found Mr Blowers was acting in a personal capacity.
He told the BBC he did not mean to start a hate campaign and was "naive" in his use of social media.
'Bin washer'
The report, commissioned by Chelmsford City Council and conducted by an independent investigator, looked at whether Mr Blowers breached the code of conduct as a member of South Woodham Ferrers Town Council.
The 7ft (2.1m) fence was built by The Eatery in Heralds Way, on land owned by the Highways Agency, to screen bins.
Following the objection to the fence, Mr Blowers criticised Mr Powell on Facebook and Twitter saying Mr Powell "seems hell bent on causing problems" and "I detest people who cause hassle through pettiness".
He also called Mr Powell a "bin washer".
His comments led to a stream of abuse by other people on the social networks which included offensive language.
Mr Powell believed Mr Blowers had "fuelled a hate-filled campaign" that had "resulted in threats on his life" said the report.
But the document states the councillor did not break the code of conduct because he was writing on social media in a personal capacity.
Mr Blowers said that passion perhaps "overruled his head" and events "spiralled" out of his control.
The report goes before the city council on Tuesday.