Essex council denies putting meals on wheels users 'at risk'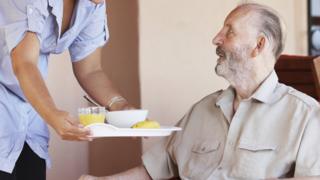 Ending a meals on wheels subsidy "will put some of the most vulnerable in our community at risk", the company which runs the service has claimed.
From October Essex County Council will no longer pay a £2 per meal subsidy.
Sodexo, which provides the service, has written to the county's 500 service users saying it does "not agree with this decision".
The county council denies Sodexo's claims and said alternative arrangements were being made.
The council subsidy was ended last October in some areas including Clacton, Harwich and Dunmow,
When the subsidy ends across the rest of the county later this year, those who take meals on wheels will have to find an extra £700 a year to meet the full £6.50 daily cost.
'Totally unacceptable'
In its letter to customers Sodexo said the council's decision would "increase the level of loneliness experienced by our clients".
It has asked service users to say if they want to keep the service despite the higher cost before deciding what it would do next.
David Finch, leader of the Conservative-run council, said the Sodexo claim was "completely untrue and totally unacceptable".
He said he had written to Sodexo "to express our disappointment" and "pointing out that they have caused unnecessary anxiety for elderly and vulnerable residents and their families".
The council said alternative arrangements such as supper clubs and home visits to heat up ready meals would be made.
Labour councillor Ivan Henderson said: "It's not politicians now raising concerns of the future of the elderly and their reliance on receiving hot meals - it's the provider themselves."