Boy accused of Colchester murders 'an easily led thug'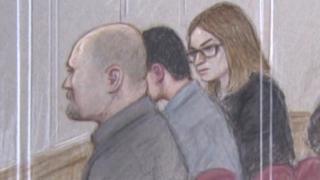 A teenager accused of two murders was "a thug" who kicked and headbutted fellow pupils, his trial has heard.
The 17-year-old admits killing James Attfield and Nahid Almanea in Colchester in 2014 but denies murder on grounds of diminished responsibility.
Reading from school reports, psychiatrist Simon Misch told Guildford Crown Court how the boy's behaviour became increasingly violent.
The defendant, who cannot be named for legal reasons, was easily led, he said.
The forensic adolescent psychiatrist said school reports described incidents such as "headbutting, kicking other pupils and throwing furniture".
Dr Misch said the boy was a child who was not coping at school and whose academic achievement was very low.
The court also heard about the defendant's father, who Dr Misch said has problems with anger management and paranoid traits in his personality. He is obsessive, needs routine and is easily irritated.
The court has previously heard the boy admitted watching violent and pornographic films, having violent sexual fantasies and being obsessed with serial killers.
During an assessment with forensic psychiatrist Dr David Ho earlier this year, the teenager said he had a flashback of the killing of Mr Attfield, 33, which made him feel "sick".
Mr Attfield was found with 102 knife wounds in Castle Park, Colchester, in March 2014.
Three months later, 31-year-old Saudi Arabian student Ms Almanea was discovered dead, also with multiple stab wounds, on Salary Brook Trail in the town.
The trial continues.