Teen accused of Colchester murders felt 'possessed by devil'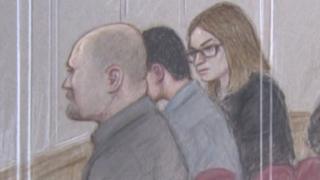 A teenager accused of two murders told a psychiatrist he "felt possessed by the devil", a court has heard.
The 17-year-old admits killing James Attfield and Nahid Almanea in Colchester in 2014 but denies murder on grounds of diminished responsibility.
Psychiatrist Dr Simon Hill told Guildford Crown Court press coverage of the deaths made him feel "powerful".
He said the defendant, who cannot be named for legal reasons, was suffering from psychosis at the time.
Dr Hill, a consultant psychiatrist at a secure hospital in the south east, said violence gave the defendant a "warm and exciting" feeling.
He said the accused - who was 15 at the time of the killings - "felt he was possessed by the devil" and heard voices.
The court also heard two drawings were discovered in the defendant's prison cell showing daggers and faces with different expressions.
One of the drawings had a face with one half smiling and one half sad, with the captions: "A man that no-one understands" and "the voices that no-one wants to treat".
Dr Hill said the defendant reported, at different times, the voices telling him to strangle a female patient on his hospital ward and rape another female patient.
When he was initially admitted to the unit, he was kept in solitary confinement and ate his meals at separate times from others and with plastic cutlery, because he told staff he might harm others.
The psychiatrist said the defendant admitted watching violent and pornographic films, having violent sexual fantasies and being obsessed with serial killers.
But, during an assessment with another forensic psychiatrist Dr David Ho of South Essex University NHS Foundation Trust, earlier this year the teenager, said he had a flashback of the killing of Mr Attfield, 33, which made him feel "sick".
The defendant said he saw a face and blood "all over the place" during the recollection, Dr Ho told the court.
The expert witnesses both said they believed it is either "highly likely" or "more than likely" the teenager was suffering from psychosis at the times of the killings, meaning he may have been aware of what he was doing but he was not able to make a rational judgment.
The trial continues.