Anti-tank rockets from World War Two found at bus stop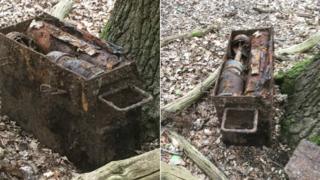 Six World War Two anti-tank rockets have been found behind a bus stop in Essex, police said.
The ordnance was found in Epping Road, Coopersale, and was dealt with by the Army Explosives Ordnance Disposal Unit, who disposed of the rockets nearby.
Experts confirmed the missiles were live and dated from World War Two.
Essex Police want to speak to whoever left the rusting missiles at the bus stop on Tuesday afternoon - to find out if they have any more.
Follow updates on this story and other news from Essex
The anti-tank rockets were taken to a nearby field and blown up after the discovery, Essex Police said.