Essex policemen injured in three-car crash in Southend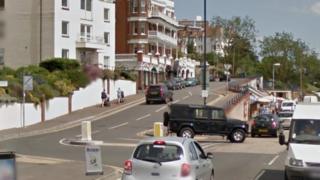 Two policemen were taken to hospital after their patrol car crashed with a BMW X5 and a Daewoo Matiz in an Essex seaside resort.
The collision happened in Shorefield Road near its junction with Marine Parade, Southend, just after 10:00 BST.
One of the officers had minor injuries while the other is being treated for a head injury and possible broken arm.
They were searching for a vehicle that earlier failed to stop for them on Western Esplanade, police said.
Two 24-year-old men were arrested in connection with the Western Esplanade incident, while the crash involving the police car is being treated as a separate matter.
The road was cordoned off for three hours.