Pair jailed for 'horrific' Thundersley acid attack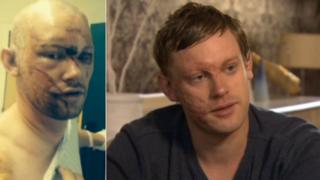 A man and his girlfriend have been jailed for an acid attack which left their victim in "excruciating agony".
Darren Pidgeon required skin grafts to repair third degree burns to his face and body after the unprovoked attack.
Ashley Russell, 29, of Basildon, and Christina Storey, 31, of Wickford, were convicted of spraying acid at him through his car window.
There was "no obvious reason" for the attack in Thundersley, the jury heard.
More on this and other stories from Essex
Russell was sentenced to 17 years in prison and Storey to eight years for throwing a corrosive substance "with intent to burn, maim, disfigure or disable."
They had denied the offence but the jury at Basildon Crown Court took one day of deliberation to convict them.
Mr Pidgeon, 29, was also punched in the head during the "horrific" incident in June 2014, the court heard.
"Darren Pidgeon was in excruciating agony, his eye was watering, some of the substance had gone into one ear," prosecutor Greg Unwin told the court during the eight day trial.
"He was confused and disorientated. Mr Pidgeon has no idea why he was attacked.
"As the liquid started to burn into his skin in his face, his arm and the side of his body, he screamed in agony," he added.
Residents gave him water to wash his eyes before ambulance crews and police arrived moments later.
Tests showed the acid had a pH level of one, indicating "extreme acid", the court heard.
Det Insp Chris Rose, of Essex Police, said: "This has been a long and difficult investigation for Darren and his family and I hope that this verdict can provide them with an element of closure and the knowledge that justice has been done.
"It should also send a message to anyone considering carrying out this type of crime that they will be found and put before the courts."