Harwich immigrants: Polish lorry drivers jailed for immigration offences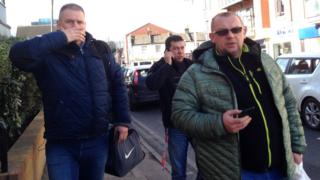 Four Polish lorry drivers have been jailed for trying to smuggle 68 suspected illegal immigrants into the UK.
Two pregnant woman and 15 children were among those found in the backs of four lorries at Harwich in June 2015.
The men admitted conspiring to facilitate illegal entry of non-EU citizens into the UK when they appeared at Chelmsford Crown Court in February.
All four men were given five-year prison sentences.
Dariusz Mokrogulski, 45, Dariusz Drozdz, 40, Grzegoez Czechowski, 39, and Radoslaw Cwikla, 39, were told the "substantial sentence" given was meant both to "punish them, and also to deter others".
Follow updates on this story and other Essex news
Judge Charles Gratwicke told them: "This was not the chance picking up of an illegal immigrant on the road - this was a concerted and planned operation."
Laura Kenyon, prosecuting, said the men were caught with 35 Afghan Sikhs, including 11 children, 22 Chinese adults, 10 Vietnamese, including four children, and a Russian woman.
"The clandestines each paid substantial sums, up to $25,000 (£17,500) for a couple, for transport to secure their way from their country of origin due to personal circumstances or because of their religious beliefs."
One of the drivers told investigators he was being paid £1,000 per migrant.
Each tampered with their driving time records to hide their routes as they picked up the immigrants. It is believed they were destined for Newark in Nottinghamshire, the court heard.
Their barristers said in mitigation that none of the men had been the main instigators of the conspiracy.