Plans to close Hatfield Peverel dairy puts 200 jobs at risk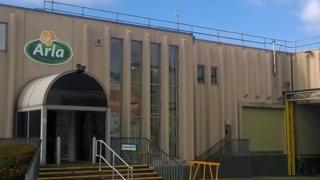 Up to 200 jobs are at risk after a food company announced plans to shut a dairy in Essex.
Arla Foods plans to close its milk processing plant at Hatfield Peverel at the end of July, with much of the work moving to its Aylesbury site.
The company said a staff consultation was under way, and that some employees could be relocated.
Dan Kolding, from Arla Foods, said: "We are committed to supporting affected colleagues at this difficult time."
The company said the decision to recommend the closure of the Hatfield Peverel facility followed "an extensive review".
It said a recent £150m investment in its Aylesbury plant made it the "world's largest dairy operation".