Chelmsford woman wins £1m lottery after 'misunderstanding'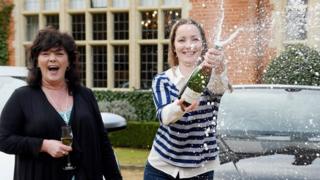 A woman believes a shopkeeper's mistake landed her with a £1m lottery win.
Care worker Lynne Groves, 58, from Chelmsford, asked for her usual lucky dip Lotto tickets but was accidentally given EuroMillions tickets.
She handed them back and the shopkeeper then printed her Lotto tickets.
She said the "precious moments" lost reprinting the tickets resulted in the winning numbers being generated. She plans to thank the shopkeeper with a holiday to Australia.
Video: Watch Lynne Groves celebrate her £1m lottery win
The mother of three and grandmother to eight is convinced the numbers would have been different had the tickets been issued immediately.
She said she only netted the £1m prize thanks to the shopkeeper's "misunderstanding".
'Nearest and dearest'
As well as retiring she plans to buy her children and partner new cars, send her grandchildren to Disneyland and set up a "little nest-egg" for them.
She also plans to "keep her side of the deal" and send the shopkeeper on a break to Australia after regularly joking about paying for his holiday if she won.
"Winning means I can look after my nearest and dearest. This will give me more joy and happiness than any flash car or exotic holiday," Ms Groves added.