School caretaker Edwin Hillier jailed for child sex abuse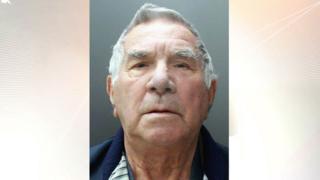 A former school caretaker, now 80, has been jailed for eight and a half years for sexually abusing two girls in the 1970s.
A court heard that Edwin Hillier had been in tears during his police interview and had admitted his guilt.
Hillier, of Saturn Way in Hemel Hempstead, had raped one girl when she was aged under 14 and attempted to rape another who was under 15.
One of his victims said Hillier told her "nobody believes a 10-year-old".
Beverly Cripps, prosecuting counsel, told St Albans Crown Court that the boyfriend of one of the victims had first reported the crimes to police in 2002.
'Filthy brain'
She did not want to proceed at that time, but did make a statement to investigators in 2014.
Hillier pleaded guilty to the attempted rape and indecent assault of one girl aged between 10 and 15 years old.
He also admitted two charges of rape, one of attempted rape and one of indecent assault on a girl aged between seven and 14 years old.
Edmund Vickers, defence counsel, said Hillier had "been in tears" during his police interview.
"He seeks to apologise to his two victims for his appalling behaviour all those years ago," he said.
"He said he was a fully grown man and he should have known better.
"He said it was his 'filthy brain'."
Mr Vickers said Hillier was registered blind and his health was deteriorating.
Judge Stephen Warner told Hillier he had subjected his victims to "repeated and systematic abuse" for his own "sexual gratification".
The court heard Hillier was a former school caretaker, but did not specify where.