Cambridge United fan Simon Dobbin 'to return home' after attack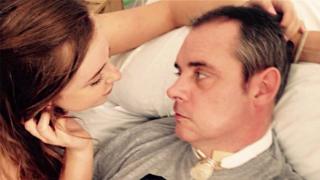 A football fan brain damaged after being attacked last year is expected to return home next week.
Cambridge United supporter Simon Dobbin, 43, is still unable to talk or eat solid food after he was caught up in a fracas in Southend in March.
He is currently being treated in Norwich but his wife Nicole is preparing their home in Suffolk.
"We're really excited at the prospect and we think he'll make much better progress at home," she said.
Mr Dobbin was attacked outside The Railway pub when his group was on its way home from Southend's Roots Hall stadium on 21 March.
'Turned upside down'
Mrs Dobbin said she was meeting with carers from Norwich's NHS Colman Centre on Thursday to confirm whether her husband can return to their Mildenhall house.
"It's been really difficult because I've had to travel back and forth to Norwich since July, I haven't been able to work, I've had to be a mum and dad to our 17-year-old daughter and do DIY that I never thought I'd have to do," she said.
"Simon clearly knows who we all are and he laughs at things that we would all find funny, but we've also seen a different side where he's been crying and it's something we've found quite difficult to get used to.
"Our lives have been turned upside down. These people need to think before they go out and act like this, because I'd hate for any other family to go through what we've been through."
She said the family could get up to £30,000 of state support to make the necessary changes to their house, but needed to raise an extra £20,000 on top of that.
Essex Police arrested a total of 17 men on suspicion of assault or violent disorder following the attack. The Crown Prosecution Service is still considering if charges are to be brought against 13 people.