Harwich immigrants: Polish lorry drivers admit immigration offence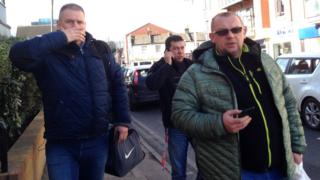 Four Polish lorry drivers have pleaded guilty to an immigration offence following the discovery of 68 suspected illegal immigrants inside lorries.
Two pregnant woman and 15 children were among those found in the backs of four lorries at Harwich International Port in June 2015.
The men admitted conspiring to facilitate illegal entry of non EU citizens into the UK during a hearing at Chelmsford Crown Court.
They will be sentenced next month.
Dariusz Mokrogulski, 45, Dariusz Drozdz, 40, Grzegoez Czechowski, 39, and Radoslaw Cwikla, 39, were all released on bail following the hearing.
The Home Office said of the 68 people brought into the UK in the lorries, 22 were removed from the county and the rest have made immigration applications.