Sible Hedingham shooting victim 'facing leg amputation'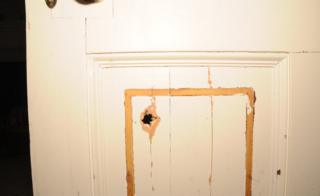 A man who was shot during a burglary at his mansion is facing the "very real prospect" of having his leg amputated.
The victim, aged in his 40s and named locally as Timothy Mardon, was shot through a door during the raid at Sible Hedingham in Essex on Saturday.
Police have identified the weapon as a .410 shotgun.
Det Insp Rob Kirby said: "We strongly believe the men responsible for this vicious, unprovoked attack will be known in the local community."
Two white men in their 20s, one bald, fled the scene empty-handed after the break-in, on Rectory Road at 04:40 GMT.
After being shot, the victim managed to lock himself in a bedroom at his Grade-II listed home.
'Full force of blast'
Officers said they believe the motive was "theft-related", adding there was nothing to suggest the victim was individually targeted.
Det Insp Kirby said: "This type of shotgun is smaller and lighter than a regular shotgun and if anyone has information on this weapon or believes they have sold ammunition of this type to someone matching our suspects' descriptions then we would like to hear from them.
"Our victim remains in hospital and his doctors are still battling to save his leg. He faces the very real prospect that it may have to be amputated.
"His leg took the full force of the blast as he stood with his foot against the door to keep it shut and if he had been standing in a slightly different position he could easily have been killed."
Police previously released an e-fit image of a man seen sitting in a car with another man near the house at 01:50 GMT.