Chelmsford 'Beast of Broomfield' pet cat found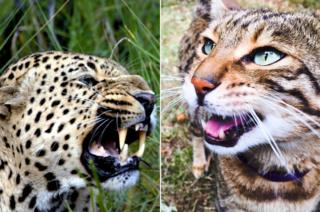 A terrifying leopard-like creature dubbed the "Beast of Broomfield" has been "grounded" by his owners after a 17-day spree "terrorising" neighbours.
Bengal cat Dougal went awol from his Chelmsford home, prompting owners Hannah Butcher and Darren Brown to put up posters "absolutely everywhere".
He gained infamy on social media when a woman claimed to have a leopard in her back garden.
Dougal was finally found on Tuesday and is currently confined to quarters.
Read more on this and other stories from Essex
His owners were hoping their seven-year-old pedigree would be easily spotted due to its distinctive feature - he has no tail.
But the 7kg (15lbs) "beast" remained at large until the couple were contacted by a driving instructor saying Dougal had sauntered past his car.
Miss Butcher rushed to the locaction, about two miles (3km) away, pausing to buy a box of cat treats which she shook vigorously whilst calling for "Doogs".
'Furry son'
Much to her dismay, a Dougal look-alike appeared - but with a tail.
She had almost given up hope when "a very vocal Dougal popped up over a nearby garden fence".
Mr Brown said: "Never has anyone been so ecstatic to be reunited with their 'furry son', and judging by the meows he was equally pleased.
"Dougal appears in good health, he's lost a little weight and he seems very tired.
"The beast is back in Broomfield, although he's done nothing but sleep.
"He's grounded now until we invest in a GPS tracker. We can't have him terrorising the neighbourhood any longer."
Dougal shot to fame after vanishing on 23 January and an anonymous woman wrote to the local paper claiming to have seen a "jungle cat" with leopard-like markings and no tail.
She said the creature reduced her pet terrier to a "whimpering" wreck.
Miss Butcher immediately recognised the description, and told the BBC: "It's not a leopard, it's bound to be Dougal, my cat."