Lorry drivers charged over 68 immigrants found at Harwich Port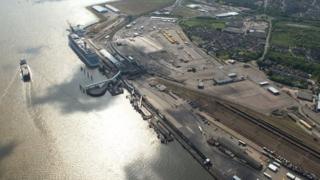 Four lorry drivers have been charged after 68 suspected illegal immigrants were found inside lorries.
The Polish men are accused of assisting unlawful immigration after the stowaways were discovered at Harwich International Port in Essex last June.
Passengers from Afghanistan, China, Vietnam and Russia were locked inside four vehicles, the Home Office said.
They included 15 children, two of whom were unaccompanied, and two pregnant women.
Dariusz Mokrogulski, 45, Dariusz Drozdz, 40, Grzegoez Czechowski, 39, and Radoslaw Cwikla, 39, were arrested by Border Force officers, as part of an intelligence-led operation.
Read more on this story and others from Essex
Stena Line, operator of the ferry that transported the lorries, said the service left the Hook of Holland before arriving at the port at 19:45 BST on 4 June.
The passengers were found hiding among washing machines at 22:00 BST.
The men were charged on 21 January and bailed until 19 February when they will appear at Chelmsford Crown Court.